The Denver Nuggets team logo has 4 colors. The official Denver Nuggets colors of the logo are Midnight Blue, Sunshine Yellow, Flatirons Red, and Skyline Blue. This logo is used by Denver Nuggets officially.
You can easily use the Denver Nuggets logo colors palette for your personal and commercial projects. But if you want to use the logo for your commercial or personal project please don't forget to contact with Denver Nuggets.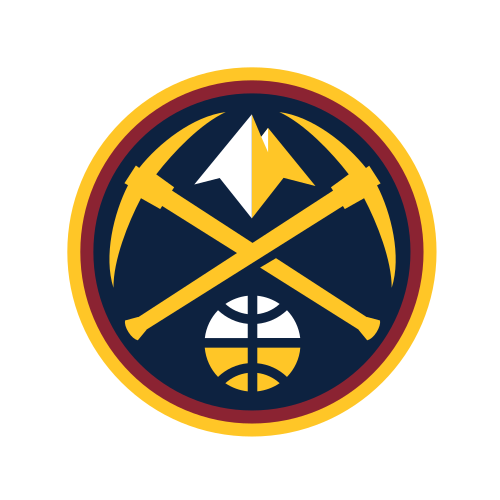 Denver Nuggets Colors Code
The Denver Nuggets colors code of RGB, HEX, CMYK and Pantone of the team logo are given below –
Midnight Blue

Hex color:
#0e2240
RGB:
13 34 64
CMYK:
98 64 46 54
Pantone:
PMS 289 C
Sunshine Yellow

Hex color:
#fec524
RGB:
255 198 39
CMYK:
0 24 91 0
Pantone:
PMS 123 C
Flatirons Red

Hex color:
#8b2131
RGB:
139 35 50
CMYK:
29 96 76 29
Pantone:
PMS 282 C
Skyline Blue

Hex color:
#244289
RGB:
30 66 138
CMYK:
100 86 15 3
Pantone:
PMS 7687 C
Frequently Asked Questions About Denver Nuggets
Denver Nuggets team logo colors and what do they mean?
The official colors of the Denver Nuggets, Midnight Blue, Sunshine Yellow, Flatirons Red, and Skyline Blue, do not have any specific meaning. They are the colors chosen by the team to represent its identity and brand.
Who is the Denver Nuggets biggest rival?
The Denver Nuggets biggest rival is considered to be the Utah Jazz. The two teams have had a strong competitive history and have faced each other many times in the playoffs, leading to an intense and closely contested rivalry.
Why are the Denver Nuggets wearing red?
The reason for the Denver Nuggets wearing red could vary depending on the specific event or game. Some common reasons for teams to wear alternate jerseys or colors include special events, games against specific opponents, or to break from the traditional home and away uniform colors.
Did Denver Nuggets change colors?
No, the Denver Nuggets have not changed their colors. The team's colors are navy blue, gold, and powder blue.